**Yes, I've intended to keep this review spoiler free, with just really minor spoilers that may not even count as spoilers.**
**All GIFS are from GIPHY**
Oh gosh. I feel guilty because of how many stars I'm going to give this, I definitely wanted to like it way more than I ended up liking it. It was a very promising story, and don't get me wrong– it was a great read and great story. But I just felt like there were some things missing.
Overall, I give this book 3.5 stars.
This book, The Wedding Date by Jasmine Guillory is about Alexa and Drew, who I assume to be in their late 20's or early 30's. The two meet when they get stuck in an elevator in a hotel. During those few minutes, the two hit it up and share some laughs. Drew laments to Alexa how he's in town for the weekend in San Francisco to attend his ex-girlfriend's wedding, which he feels extremely awkward about. Not only that, but his original date couldn't make it so now he would show up to his ex-girlfriend's wedding without a date. It would be more awkward for him than it already was. Alexa lives in San Francisco; she's at the hotel to meet up with her sister who is visiting. After the elevator gets fixed and they're about to part ways, Drew gets a crazy, last-minute idea and requests Alexa to be his fake-date. After hesitating, she agrees and he gets her number.
The plan is that Alexa and Drew will just attend two of the wedding events– the rehearsal dinner and the actual wedding– and then say goodbye forever. What happens instead is that they start falling for each other– for real.
You know when you compare a story's book versus its movie? Well, this read kind of felt like "the movie version" of an original "book version." In other words, I felt like many details could have been put in that weren't. But of course, I am in not saying that the author is "wrong" in her approach. Perhaps deciding to leave out certain depths of details was intentional. Maybe Guillory wanted to allow more flexibility for the imagination of the reader. With that being said, I want to rush to mention that the author still did a great job with details in terms of explaining the feelings and senses of the characters, especially regarding the relationship dynamics between the main characters, Alexa and Drew. But when it came to describing their individual characters in depth, I wish there was more.
The author was great at telling her readers how Alexa and Drew were feeling. The story was told in third-person singular, alternating between the perspectives of Alexa and Drew. The nervousness of a new relationship was portrayed well for both characters– Guillory made them very relatable. She showed the texting anxiety you get when waiting for a reply from your crush or your significant other, and the hopes and doubts that come with the other person's interest in you in a burgeoning relationship.
I also liked how the author showed both of the main characters' insecurities. She showed Alexa's insecurities with being a black woman dating an attractive white guy in a society that claims that "white" beauty standards are the beauty standards. There were multiple mentions of Alexa feeling out of place being the only person of color, the only black person, in a room full of white people. It wasn't that she didn't believe that she didn't belong there– but she felt the worries of scrutiny and discrimination from others. As a person of color, I can relate to some, but not all, of those feelings. While some of those instances were relatable to minority people of color such as myself, others were specific to the experiences of black people in this country.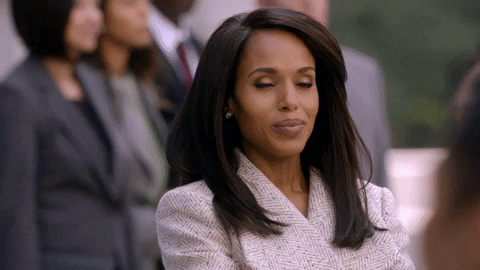 I liked the personality that the author gave Alexa– she seemed like a strong, independent woman who chased her dreams and she was passionate about helping others. And it was obvious that she really cared about Drew. But I wish there was more depth and more emotion shown and expressed by Alexa toward both her career and her relationships, platonic or not.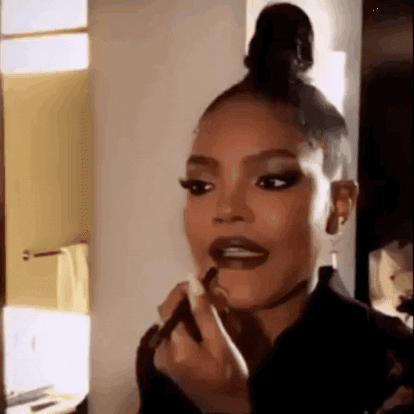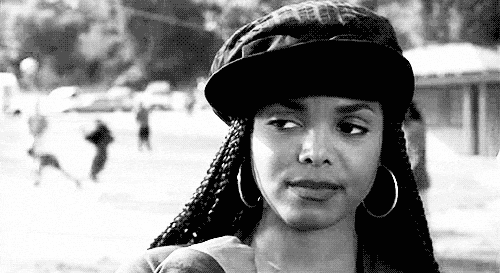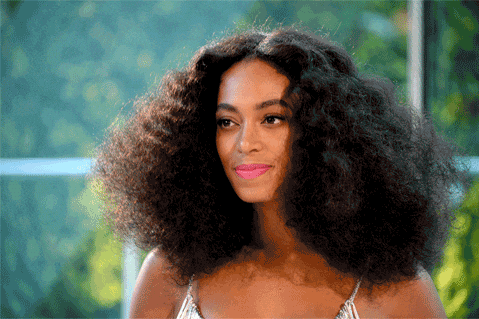 Regarding Drew, the author made it obvious that he cared about Alexa and he seemed to be open-minded. He was aware of his privilege as a white person, and when he didn't understand a race issue that Alexa understood, he sought to understand and empathize. Of course, however, he couldn't understand to the extent that Alexa understood, not having experienced race-based unfairness and discrimination himself. It seemed that he got more understanding as the book progressed, but I just wish that his evolution of understanding was better articulated. It would have been nice to see instances of racism make Drew angry as they made Alexa angry– actually, I wish that more instances of emotion toward injustice was shown from Alexa, too. It was obvious that she cared about the issues, but there could have been more descriptions of the anger, sadness, etc. that she felt.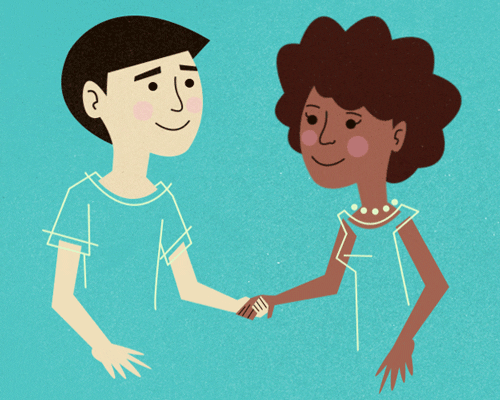 It was also clear that Drew took his career as a pediatric doctor seriously and that he cared about his patients. But I wish there was more shown about his personality through his actual interactions with his patients. I would have like to know more what was going on in his head when interacting with them, for instance. Maybe the author was trying to show her readers how Drew felt through his actions so that we could infer from his feelings. Still, explaining bodily sensations such as nausea for bad news or elation for good news about his patients would have been nice to include.
But I also wanted to know– what is Drew passionate about? What are his hobbies, besides running and playing basketball with his friends? What causes is he passionate about, and how do those passions make him feel? The author made it clear what Alexa was passionate about, but I wish there had been that mention for Drew, too.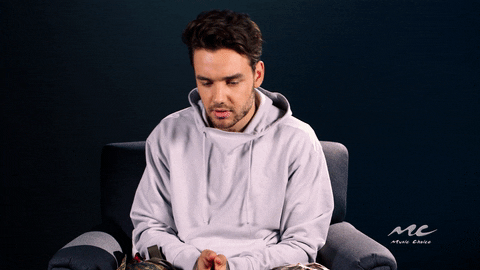 I also wish the author included more details about what drew Drew (no pun intented) to Alexa. He generally had commitment issues and a long trail of failed relationships with women prior to her, and then Alexa came along. While the author mentioned some specific things about how Alexa made him feel like he was at home, and how he loved Alexa taking great joy in little things in life, I wish she said more about those specific things and why Drew liked them so much. I wish she expanded more on how Alexa's personality made him feel. What was it about Alexa that made him feel at home? What was it about her that made him feel comfortable?
I also really lament the missing of several possible scenes from this story that would have better emphasized Alexa and Drew's emotional connection.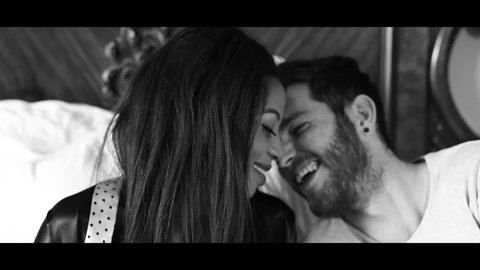 I wasn't really sure exactly what this book was missing, but writing this review, it wasn't that the author made the relationship seem rushed and surface-level. Rather, the relationship between Alexa and Drew seemed very genuine and deep. I think what bothered me was that I, as the reader, was excluded from seeing moments and parts of how the relationship deepened. Alongside not getting more details of the individual characters, I feel like I just didn't get enough details about the actual events of the relationship.
For instance, Guillory detailed the cozy, comfortable and safe feelings of being with a partner and just being able to relax with them while doing work together on the couch or just cuddling next to each other, not doing much. And she showed their enjoyment for sharing food together and taking walks here and there. But I wish we heard more of the dialogue between the characters about things that mattered to them individually. I wish we saw more of them sharing their dreams and passions with each other. And I wish we were shown how the characters felt exchanging these individual intimate details about themselves. I wish they shared more of their insecurities– or perhaps it was evident that they shared these intimate things by how comfortable and themselves they were with each other, but I wish we were also shown it as the readers. Dates were mentioned outside of the characters spending time together at each other's places, but I wish the book included more of the actual scenes of those dates as well as more details about them and conversations within them. Regardless, the romantic chemistry was evident.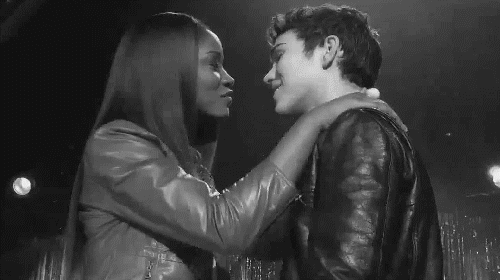 The conversations and dialogue were good. I feel like they were meaningful, but I just wish they were more. Less broad, more narrowed, and more detailed. For example, I wish that the reader was shown dialogue between Drew and Alexa where they could have explicitly explained their personal insecurities to each other– Drew about his fear of messing up a good thing regarding a romantic relationship, and Alexa with her fear of Drew preferring women with a different body shape than hers, among other things. And I wish we were shown Drew reassuring her that that wasn't the case. Maybe the point was that Alexa and Drew understood each other insecurities through non-verbal communication? I personally am someone who values verbal communication quite significantly, so maybe my bias for that preference is from that.
I also wish there was more drama! I mean, there was drama in parts of this novel, and those were good. But I wanted more! I wanted to be kept on my toes more. I feel like, as good as the lovey-dovey parts were between Alexa and Drew, there needed to be more drama between them and around them. The love and sex scenes sometimes just got repetitive and made the story seem slow at parts.
Of course, book reviews aren't objective. But based on my personal preferences, I would have enjoyed this story a lot more had there been more intimate, emotionally-jarring details. I really think this book would have strung my heart chords a lot more if it were told in first-person rather than third.
I really, really loved that this story depicted an interracial relationship. I'm a sucker for two people from different backgrounds falling in love, and I really liked how this story specifically shattered the lame stereotype that white men don't go for black women.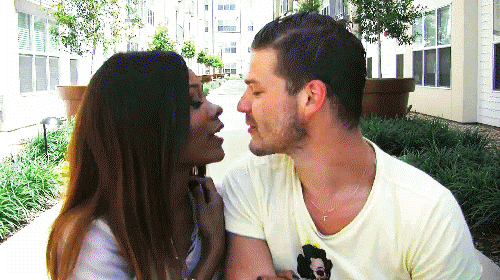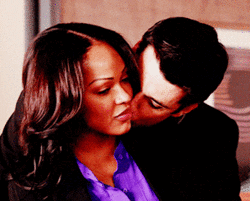 I also thought it was good that the author showed incidents of racism and discrimination against Alexa, and how those made her feel. I just wish there was more to them– like I wish there were more instances of them to to portray the reality of blunt and not-so-blunt yet obvious racism and bigotry that continue to pervert society. And like I mentioned earlier, I wish Drew's evolution of his understanding of racism was more detailed and that his anger and passion to fight its existence matched Alexa's.
The platonic friendships between the characters and their best friends were comforting. I liked the supportive but tough-loving dynamic in Alexa's friendship with Maddie, and I loved her work-BFF relationship with Theo. I also liked the humor that came from the friendship between Drew and Carlos, though I wish they were a little less hostile toward each other and hugged more (I don't think they hugged once, throughout the book? but I guess some friendships are just like that. But I really wouldn't mind some BROMANCE, though). Like Maddie and Alexa, Drew and Carlos obviously cared about each other and were dependable in their friendship despite their aggressiveness and macho-man demeanor toward each other.
The incorporation of food and drinks to depict bonding was also a good idea. I read once in How to Read Literature Like a Professor that using food sharing between and among people and thus characters was a great way to show and develop intimacy. Because if you share your food with someone, you either metaphorically or literally make space for them at your table. So you basically accept them, which makes sense. There were lots of donuts and coffee and other yumminness included throughout this story.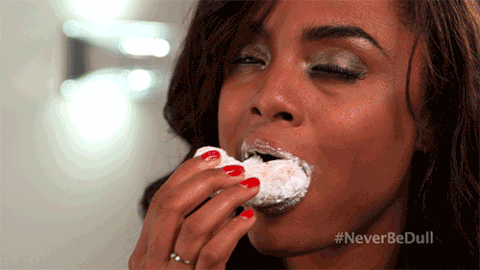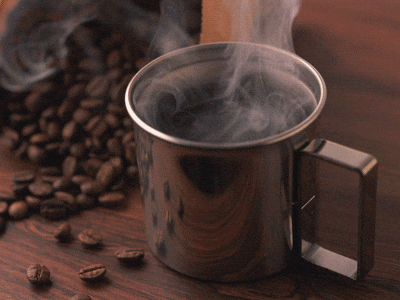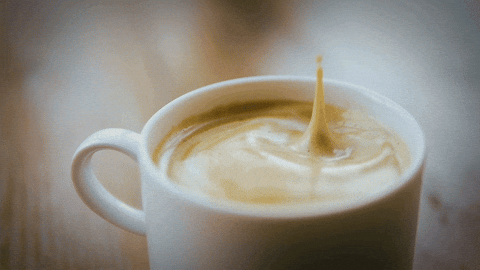 Overall, I see myself saying that I wanted "more" a lot. Similar to what I mentioned earlier, this book was more like a movie to me than it was a book. Perhaps several details were spared by the author with the intention to write this book as if the reader were watching a movie rather than getting caught up in the wordy details of a book. And I liked this story, a lot– which is why I'm sad that there weren't more details to it because I'm someone who enjoys and savors the details (hence I prefer reading over watching movies, and have a hard time sitting through a single movie because of how bored I get).
I know that I mentioned many things that I wished for and didn't like, and while I stand by those things, I'm worried that such mentions will take away from how much I really actually did enjoy the book. It was an overall pleasure to read, and I recommend it for anyone who is craving a light-hearted romantic comedy.